See Related Video ]
---
SEVERE WIND STORM -- A MICROBURST? OR A LOW-GRADE TORNADO?
-- 20 JULY 2000.
On Thursday, July 20th, 2000, many areas in Gainesville were hit with strong winds from a severe thunderstorm, including here at my own home here in Whitney Mobile Home Park. Was it a microburst situation? or was it actually a tornado passing over my home? There are clues in the actual video which tend to make me wonder if it wasn't actually a low-grade tornado.
Description/More about it, with lots more photos.
[ See Related Video ]
---
LIGHTNING STRIKE BEHIND MOBILE HOME?
-- 31 AUG 2001.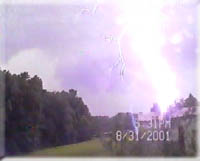 (Here's an MPEG movie of the strike. [2.9-megs])
On Friday, August 31st, 2001, there was a lot of close lightning happening as a thunderstorm passed over Whitney Mobile Home Park. I decided to just point the video camera out the back door to see what I could get on tape, and this is what I ended up getting.
No, I don't think it actually did hit the mobile home since the sound of the related thunderclap (if you listen to the video) occurs about a half-second or so after the strike, indicating that it actually occured farther away - perhaps up to 1/5-mile or more - somewhere BEHIND the mobile home.
However, it still looked pretty impressive; so I added it here.
---
WUFT/TV-5 NEWS STORY - 'STORM SPOTTERS'
-- 31 MAY 2002.
WUFT/TV-5 came to interview us during a spotter training class in 2002. Portions of video from the May 14 hail event and the July 16 downburst (both above) event were used in the story.
[ See Related Video ]
---
MONTEOCHA HAIL EVENT
-- 01 MAR 2003
Hail event that occurred in Monteocha, Alachua County, FL on the property of Al Pinson. Surprising, spectacular and even eerie photography taken by Michael Robinett / W4UAV.
---
SQUALL LINE GREENAGE
-- MID-2004 (UNK DATE/TIME).
Video of a cool, mean-looking approaching squall line that was very windy and showed some very obvious green - sometimes indicative of hail. Unknown date and time. Courtesy Jim Carr / KC4MHH.
[ See Related Video ]
---
MULTICELL THUNDERSTORM & GUST FRONT
-- 06 JUL 2008.
While in front of the Wal-Mart on Archer Road in Gainesville, FL, I took time out to video a large thunderstorm to the southwest. I used a Raynoc wide-angle lens and I'm definitely NOT happy with it. You can see why in this video. You have the "biocular" shadow, there is pretty bad lens aberration. But I wanted the wide-angle shots. Later in the video I recorded an approaching gust front from the storm.
[ See Related Video ]
---
NASA SAVING LIVES - EARTH SCIENTISTS AND METEOROLOGISTS CREATE HISTORICALLY BASED, REALISTIC WEATHER ANIMATIONS
-- 01 SEP 2008.
42 seconds of an NPR interview segment with me which includes video shorts from the May 14th, 2000 hail event, the July 17, 2000 microburst event, and the July 6, 2008 gust front event.
[ See Related Video ]
---
WAR-ZONE THUNDERSTORM
-- 21 JAN 2010.
When storms have nearly non-stop thunder and lightning they often sound something like a 'war-zone'. Thus, I like to call them 'war-zone' thunderstorms. It occurs when lightning strikes occur so often - many times a second - that the sound of the thunder crashes don't have a chance to completely abate before another thunder crash occurs on top of or right on the heels of other thunder crashes. The thunder crashes can often sound like train wrecks, or like a bowling alley, or...like bombs being dropped all around you. This is ten minutes worth of video that I shot mostly for the sounds, and not so much for the show. Start this video going and turn the volume up on your good stereo speakers and just sit back and close your eyes.
[ See Related Video ]
---
LIGHTNING OVER UF
-- 08 JUNE 2014
Yet another awesome photo taken by local storm spotter Dr. Steven Robicsek, this time of some crawler (cloud-to-cloud) and CG (cloud-to-ground) lightning framing a scene of the University of Florida campus at night. Steve advises that the photo was taken at 6:06pm ET. (You'll remember Steven from his photo of the gust front funnel over the UF stadium in June of 2010. June seems to be a good month for Steven.) The photo was taken from the Seagle Building, just north of 6th Street on University Avenue. Let's see how many buildings near and far that you can recognize in this photo! Steven's photo used herin with permission. Also per Steven's request we have used lower resolution photos than the original.