CONTENTS:
---
The Alachua County Area Storm Spotter's Field Guide is a project that I've been wanting to put together for many, many years, now. I've always talked about it but never really had enough to actually fill it with meat. I've talked about it and talked about it with friends. I've got emails going back to 1997, in fact. Over the years, we've slowly been able to accumulate enough such that now I think this is finally able to become a reality.
The NOAA/NWS Storm Spotter Field Guide series are wonderful reference materials. However, while beginning to get kind of outdated, they also tend to use examples of storm features and events which occur only out in the Midwest, and that's always bothered me. In the Midwest, the air is much drier. As a result, the storms are different in appearance out there than they are here in much wetter Florida. In the Midwest, the storm bases are much higher, and so, you can see much farther underneath them. There is less accessory cloudage such as scud, and thus, this doesn't get in the way (as much). And so, you can see much more of the storm's sides and features in the Midwest. You're able to better gauge where you are in relation to the storm, and what is going on within a storm. In Florida, most of the severe storms are high-precipitation (HP) storms.
This has been my biggest worry with Florida storms. While we may never see tornadoes which match the unheard of powers seen in the Midwest, I consider Florida storms to potentially be sometimes more dangerous because with the storm bases being so low, and with there being so much scud and other lower level clouds in the way, it is much more difficult for the spotter (much less anyone else) to see anything at all, and thus what is going on. As a result, there are plenty of past examples where people here tend to get hit by surprise more often. The ONLY friend becomes NWS RADAR and the NOAA Weather Radio to clue you in that something could be occuring near you. Spotters are a great asset, but we cannot see everything - and that goes especially at night.
But of what we CAN see, I am putting together this local area Storm Spotter's Field Guide to help spotters and others to better interpret what they are seeing out there in FLORIDA climate. This will be a compendium put together of photos and videos gathered by myself and by others.
If you have a photo or a video of a severe weather related feature or event occuring here in Alachua County and you think it shows something which might be helpful to spotters, then please feel free to submit it to us. We will always give proper credit to the respective authors who submit their materials to us.
I plan to eventually also add things we've seen which demonstrate examples of look-a-likes and "things that are NOT". For, as much as a spotter needs to see real examples of the actual stuff, they also should be able to see real-life examples of the things that can fool. And in my life's experience as a learning spotter over the years, I've been awed and fooled by many things which looked like they could be something but actually weren't. Sometimes this takes contacting your local NWSFO and communicating with them to find out current conditions noted in your area which could help you to determine whether something you see might be anything to worry about or not. Never be afraid to check!
With that, let's get this started...
[
Back to CONTENTS
]
---
Severe Wind Storm -- A Microburst? Or A Low-grade Tornado?
Date/Time: July 20, 2000, 16:41 Hrs EDT
Location: Gainesville, FL
Submitted By: Todd Sherman / KB4MHH
On Thursday, July 20th, 2000, many areas in Gainesville were hit with strong winds from a severe thunderstorm, including here at my own home here in Whitney Mobile Home Park. Was it a microburst situation? or was it actually a tornado passing over my home? There are clues in the actual video which tend to make me wonder if it wasn't actually a low-grade tornado.
[ Description / More About It ] (with lots more photos)
[ See Related Video ]
[
Back to CONTENTS
]
---
Gust Front Funnel Cloud (Gustnado) - June 29, 2010
Date/Time: June 29, 2010, 17:44 Hrs EDT
Location: Gainesville, FL
Submitted By: Dr. Steven A. Robicsek, MD, PhD
Photo by Dr. Steven A Robicsek, MD, PhD. Taken June 29, 2010 at 5:44pm, from atop the Seagle Building on University Avenue, looking west at the Ben Hill Griffith Stadium. Unless someone else comes forward, this could well be the first-ever photograph of a gustnado ever taken within Alachua County.
[ Description / More About It ]
---
Alachua EF-0 Tornado - 03/24/2012
Date/Time: March 24, 2012 - 14:50 Hrs EDT
Location: Walmart Distribution Center, Alachua, FL
Submitted By: Jonathan Baker
Camera Used: iPhone4
Photo by Jonathan Baker. Taken March 24, 2012 at 2:50pm, from outside of the north side of the Walmart Distribution Center building located in Alachua, Florida, looking to the northwest.
Tornadoes do occur within Alachua County. However, actually nabbing a photo or video of one has up until now proven to be very difficult. We've been researching tornado photography within Alachua County for a while and we've not been able to come up with anything up until now. This may well be the first-ever photograph of a tornado ever taken within the county. Congratulations to John for the shot.
Jonathan was also able to take a video of the tornado. We will upload that here as soon as we obtain it.
Our thanks to Jonathan for his permission to place them here for people to use to learn.
[ Description / More About It ]
[
Back to CONTENTS
]
---
Date/Time: Mid-2004 (Exact Date/Time Unknown)
Location: Near Hague, FL
Submitted By: James Carr / KC4MHH

Video of a cool, mean-looking approaching squall line that was very windy and showed some very obvious green - sometimes indicative of hail. Exact date and time of occurance is unknown, except that it occurred sometime in Mid-2004. Courtesy Jim Carr / KC4MHH.
[
Back to CONTENTS
]
---
Multicell Thunderstorm & Associated Gust Front
Date/Time: July 08, 2008, 18:44 Hrs EDT
Location: Gainesville, FL
Submitted By: Todd Sherman / KB4MHH
While in front of the Wal-Mart on Archer Road in Gainesville, FL, I took time out to video a large thunderstorm to the southwest.
[ Description / More About It ]
[ See Related Video ]
[
Back to CONTENTS
]
---
North Central Florida Cross-County Hail Event
Date/Time: May 14, 2000, 17:12 Hrs EDT
Location: Gainesville, FL
Submitted By: Todd Sherman / KB4MHH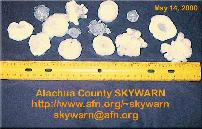 On Sunday, May 14th, 2000, a weak cold front and two stronger sea breeze fronts collided across northern Florida to create a severe thunderstorm which produced hail that ranged in size from 1/4-inch to 3/4-inch (in Gilchrist county), and from 3/4-inch to 3-inches (in northwest Alachua county). The hail was accompanied with strong winds and very heavy rains which lasted up to 9-minutes at Whitney Mobile Home Park.
Multiple methods of photo-documentation by various sources across Alachua County.
[ Description / More About It ]
[ See Related Video ]
[
Back to CONTENTS
]
---
Monteocha Hail Event - March 01, 2003
Date/Time: March 01, 2003
Location: Monteocha, FL
Submitted By: Michael Robinett / W4UAV
Hail event that occurred in Monteocha, Alachua County, FL on the property of Al Pinson. Surprising, spectacular and even eerie photography taken by Michael Robinett / W4UAV.
[ Description / More About It ]
[
Back to CONTENTS
]
---
Western Alachua County Hail Event - March 14, 2012
Date/Time: March 14, 2012, 19:00 Hrs EDT
Location: Western and Southwestern Alachua County, FL
Submitted By: (various spotters)
Hail event that occurred in various places in western and southwestern Alachua County, FL, mostly along I-75 from CR-222 (NW 39th Ave) to Newberry Road and Archer Road. The storms came from offshore of Jacksonville heading southwest and in traversing our area even took out power in patches west of I-75. A number of storm spotters reported hail events with hail of varying sizes from graupel (pea-sized or less) to up to quarter-sized (1/25 inches). The hail even caused enough confusion to cause some minor accidents along Newberry Road in the area in front of the Oaks Mall.
[ Description / More About It ]
[ See Short Video of 5100 block of NW 39th Ave - 3/14, 1900 Hrs - Steven Clifford ]
[
Back to CONTENTS
]
---
Location: Gainesville, FL
Date/Time: January 24, 1999
Submitted By: Todd Sherman / KB4MHH
I was at my desk in my bedroom during a thunderstorm with my window blinds closed when out of the corner of my eye, through cracks between the leaves of the blinds next to me I saw a VERY bright repeated flash, followed almost instantly by an extremely loud thundercrash. I ducked by instinct and then opened the blinds and sat back down and tried to remember where the flash had occured through the blinds to try to gauge where the stike had occured exactly. I was able to narrrow it down to a tree in a resident's yard one street down from me. After the storm was over, I went over to the resident's house and got permission to videotape the strike damage to the tree to document it for educational purposes.
[
Back to CONTENTS
]
---
Location: Gainesville, FL
Date/Time: Sunday, June 08, 2014, 06:06pm
Submitted By: Dr. Steven Robicsek
Yet another awesome photo taken by local storm spotter Dr. Steven Robicsek, this time of some crawler/spider (cloud-to-cloud) and CG (cloud-to-ground) lightning framing a scene of the University of Florida campus at night. You'll remember Steven from his photo of the gust front funnel adjacent to the UF stadium in June of 2010. (June seems to be a good month for Steven.) The photo was taken from the Seagle Building, just north of 6th Street on University Avenue. Let's see how many buildings near and far that you can recognize in this photo!
NOTE: Steven's photo used herein with permission. Thanks, Steven!
[
Back to CONTENTS
]
---
Waldo Wall Cloud? - July 16, 2000
Date/Time: July 16. 2000, Approx. 15:40 Hrs EDT
Location: Waldo, FL
Submitted By: James Carr / KC4MHH
Video of a wall cloud passing over the city of Waldo, Florida. There were watches and warnings issued for that area at tha time. There is further later video (left out, here) where the driver went south after passage of the event and then headed back north, immediately. As he did so, he ran into heavy rains and VERY strong winds which pushed him around on the road a bit and nearly knocked over his van. I'm hoping he didn't actually end up accidentally "core punching", but I fear that that's exactly what he may have done without even knowing what he was involved in. These things appear and reappear in random places and can be dangerous. Whether or not it's an actual wall cloud is not known. The driver didn't remember to turn on his date/time stamp, OR to record his observation to paper, OR to even call in what he was seeing to the NWS, so unfortunately there is no record of it, EXCEPT in this video. In various places in the video ham operators are making mention of watches or warnings being issued in the area, and at some point a dispatcher can be heard on the fire/rescue radio also mentioning something about a warning. So it would appear that the setup would seem to be favorable. experts on this. I'll try to get a longer version up, soon, showing the drive TO the site where the Petro gas station is passed, and also showing for a brief period a larger portion of the sky - if but whited out due to camera oversaturation.
[ Description / More About It ]
[ See Videos ]
[
Back to CONTENTS
]
---
Date/Time: July 31, 2009 - Between 12:45-12:48 Hrs EDT
Location: I-75, near Paynes Prairie, Gainesville, FL
Submitted By: Jim Saunders
Jim Saunders took a series of photos of something that appeared to be a "funnel cloud" somewhere near Paynes Prairie in Gainesville while driving along I-75. But there doesn't appear to be any meso or wall cloud attached to it. The photos did not come with any video to show if there was any rotation going on, and there does not appear to be any debris being picked up anywhere. This is just a scud cloud lowering which happens to look kinda like a menacing funnel cloud. Scud clouds look like this very commonly, and very often do fool many people.
[ Description / More About It ]
[
Back to CONTENTS
]
---
Date/Time: Unknown
Location: Unknown
Submitted By: Bill Franks / KB4GRE
Clouds such as these are called "hole punch clouds"; also known as "fallstreak holes". The "funnel" shapes that you see in them occurs when planes fly through cirro- or alto-cumulus clouds, leaving particulates which warm up the area of penetration as well as the surrounding area. The ice crystals then melt in an outward cascading effect, and they begin to fall as rain - from the center first, and increasingly outwards as the warm area slowly expands. On the way down, they refreeze into fuzzy cloud ice particles again. This forms the bizarrre shape that we see, which looks like a "funnel".
[
Back to CONTENTS
]