---
Severe Wind Storm -- A Microburst? Or A Low-grade Tornado?
Date/Time: July 20, 2000, 16:41 Hrs EDT
Location: Whitney MHP, Gainesville, FL
Submitted By: Todd Sherman / KB4MHH
[NOTE: If you have any photos of storm-related damage from this storm, send us a copy and we'll put it up here, too. -Todd]
After living a Florida a while, you'll slowly begin to realize that you really don't have to leave your home to find the stuff of severe. It seems intent to find you on it's own. If you're patient enough, all you have to do is point a camera out the window and eventually, there it is, happening right before you. It seems to happen pretty often. No. You don't have to have any special skills. Nor do you have to have some kind of magical, mystical meteorological aura surrounding you which attracts it.
There is a secret, though. It's not a really tough one, either. It's called "...location, location, location."
...Florida. Why is it called "The Sunshine State" when it is also known as the "lightning capitol of the world?"
We get a lot of thunderstorms, here. We're so low in latitude that we actually fall into a couple of "tropical" type temperate zones. The air is a lot more moist, usually pulled up across us from the Gulf waters during certain "seasons" of the year. With so many thunderstorms going on here, the chances of some of them becoming severe is pretty high. So, you really don't have to leave your home here in Florida to find the stuff of severity. If you're a resident, you can't help it. It will come and eventually find you at some point or another...high winds, hail, extra heavy downpours, flooding, funnel clouds, tornadoes... We get it all, here, at some time. And with this stuff comes, on occasion...damage.
On July 20th, 2000, we got pretty much everything but a tornado.
UNEXPECTED
I was at home watching TV when, at 4:14pm, the weather radio went off with a Severe Thunderstorm Warning for Northern Alachua County, and for Gilchrist County. I immediately got on the Internet and went to the NWS-JAX web site and downloaded the text of the warning, then e-mailed it out on the Alert List. I also announced the message on the local ham radio repeater, on 146.820 MHz.
I sat back and just watched the storm roll in. I was debating weather or not to pull up a SKYWARN net on the repeater. I was counting the lightning strokes, and watching how close they were. I decided there was no way I was going to get on the air and run a net with this much electricity in the air looking for a nice place to ground. So I turned off the computer, disconnected all important electronic equipment, disconnected antennas, and turned on the handie-talkie to monitor, at least.
I guess everyone else was thinking along the same lines. No "official" net was started, but a few stations came up on HTs, and we communicated information back and forth. If you want to call that a net...
Jim Carr/KC4MHH, and Penny Carr/KD4QHY, went around mobile in thier van. Vickie Carr/KF4LAF, stayed home and monitored the RADAR, other random stations included John/K4KAM, Mike Robinett/KE4UVQ, Ron Meder/W8MSH, and Larry/WB4VAU.
The lightning intensified, and got closer...fast. The flashes were an intense bright blue, and became so frequent I started getting a little instinctively nervous, even though I was under shelter. You never know what might happen with these things, and all you can do is sit, and wait, and watch, and hope nothing bad happens. It literally sounded like a war zone, out there - with a bomb exploding every time the lightning flashed. But these "bombs" were being dropped incessantly, as if from a B-52.
I grabbed the video camera, stood at the front door, and began taping... just in case. You never know if you'll get a close lightning strike to a tree or something on tape, or maybe a downburst event, some hail, or whatever. So I stood there and just taped the lightning going on as the storm approached.
Right at 4:41pm, I noticed the sound of small hail hitting the windows and the rooftop. I looked at the ground and the size was initially "graupel" to 1/4-inch-sized. A rare one-incher could be seen bouncing on the ground, now and then; but not often. (The amount of hail was slight, compared to the May "Hail-Day" event. Not very much at all, really.)
But hail is an indication that something severe might be going on above, and it was the first clue that something more was indeed to come.
The rains weren't too heavy just yet. Between light and moderate.
Just before the clock hit 4:42pm, there was a sudden very bright flash of lightning, followed immediately by an incredibly loud crash of thunder, and then the rains started coming down a little harder. They increased even further, and the winds began to rise from the south. The rain then started to come down more and more sideways. Then, in an instant, the rain turned into a thick, white, whirling blur that raced very quickly from south to north between my home and my neighbor's just to the east of me... as if we were test homes in some huge wind tunnel. It all only lasted but maybe thirty seconds.
At one instant my car, parked maybe thirty feet away, nearly disappeared, then reappeared as the winds instantly shifted towards the southeast, towards the south, towards the west, and around to the northwest, then back to normal again. My neighbor's home just across the street completely disappeared into moving whiteness for a few seconds. (See photos left and right.) Then, just as many seconds later, it all calmed down. ...At least, back now to the original state of constant lightning and moderate rains. A minute later, another lighter gust occured. Then another occured a few minutes after that. I got them on videotape, then the camera's battery died.
I hooked up the wall power supply to the camera and tried to tape a little more, and then there was a brownout, and I had to restart the camera. A minute after that, the power finally went out, ending that. (The power stayed out until just after 6pm.)
As the downbursts were happening, it was not immediately apparent that any damage was occuring - either to my own residence, or to anyone else's. There was no detectable debris flying around (other than the expected light twigs and leaves). I could hear no "destructive" type sounds at all. It's possible it all could have been masked by the winds, rains, and hail, though. But upon initially scanning out the windows, nothing was immediately apparent.
NOTE: April 07, 2002. Upon going back over the video, it occurs to me that what actually might have happened, here, wasn't a DOWNBURST, but possibly a TORNADO - one for which the funnel was touching ground, but not visible. ...and it passed right over my home. This is going to bug the heck out of me for years to come, now..wondering what exactly happened that day.
LATER DAMAGE ASSESSMENT
It was not until many minutes later when I looked out the extreme edge of the front door's window that I noticed large white squares laying about in the grass towards the rear of my home. At first, I could only see three pieces. Later, forcing my face against the glass to see the most, I saw a fourth. I couldn't open the door just yet because it was still raining, with a good amount of lightning, yet. About an hour later, when the rains finally subsided to a gentle drizzle, I opened the door, stepped outside, and that's when I finally noticed the full extent of things.
At the rear of the mobile home, multiple large, square pieces of vinyl skirting that had once surrounded the base were now lying about the back yard. Walking to the aft end to get a better look, I saw that all of the skirting was gone from the backside of my home, and from part of the rear east side. As well, small pieces of pink insulation could be seen here and there in the grass. Looking underneath, insulation had been ripped from the underside of the home, so that large areas of pink and duct tape were left hanging down. The rest of the skirting, on both the east and west sides, up to the middle of the home, had been simply blown from the inside outwards - dislodged from the upper lip, and still remaining in place at the bottom. I grabbed the digital camera and took photos of it all, my feet sinking into the waterlogged grass with a "squish-squish."
Next door to the east, our neighbors suffered similar missing skirting on the west, rear side of his home. But it wasn't nearly to the extent that my home had experienced. As well, about ten feet off the ends of two 6-inch diameter branches on the large oak tree in the front of thier yard had been twisted up and backwards by the winds (according to neighbors across the street who witnessed it happen), so that they were left hanging above the rooftop, daring to drop straight down into their roof. I tried to take some digital photos of the hanging branches.
Upon examining other homes up my street, it quickly became apparent that neighbors on the north side of our east-west street were largely left alone. Meanwhile, those homes on the south side of the street - the ones with about 100 feet of open space between them and the nearby forest, suffered the worst. ...Mostly skirtings blown inwards or outwards, and small to medium-sized branches down. Our home seemed to have suffered the worst of the skirting damage. On the north side of the street, I only noticed one home, halfway up the road, that had a 6-inch-wide, 20-foot long branch - or maybe it was part of a treetop - lying on the ground. Evidently, our side of the street acted as a buffer for the homes on the north side of the street. The winds blew from south to north, and those on the south side caught the full force of the winds while, at the same time, blunting them for the homes on the north side of the street.
For the most part though, while many homes were affected, I think the damage at Whitney Mobile Home Park can technically be classified as "minimal."
In other places in northwest Gainesville, large pine trees were blown down - across roads, on top of homes, across power lines. Some trees had been snapped in half.
A friend of mine, Frank/W3KT, had a 60-70-foot tree fall upon his own roof. Frank lives near I-75, at Millhopper Road and NW 103rd in NW Gainesville.
The storm made its way through Gainesville quickly, and by the time it had reached Marion County it had lost much of it's punch.
Throughout our own storm situation, multiple alerts were going out for other counties, as well -- including Bradford, Clay, Columbia (I think - things were moving quickly), Gilchrist, Putnam, Suwannee, and St. Johns -- due to other southwards-moving storm cells occuring over Northern Florida.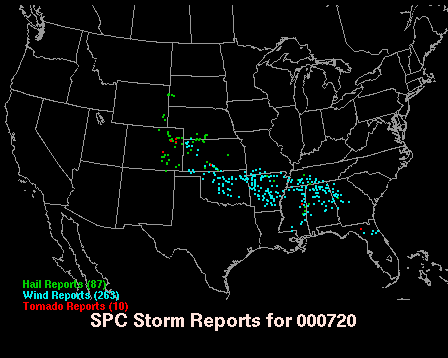 Related Text Bulletins From The Day/Event:
Satellite Imagery:
RADAR Imagery:
(For a quick general description of the various radar products and each of their uses, see NCDC Radar Products.)
Administrative 'Yet To Do':
Obtain AFDs, ZFPs, HWOs, and LSRs for the day, if any
Obtain satellite imagery for the day
---
Alachua County SKYWARN
Gainesville, Alachua Co., Fla.
E-mail: admin@alachuaskywarn.org
Created: July 20, 2000.
Last updated: April 21, 2012.

Web Page Copyright © 2000- by Alachua County SKYWARN.
All Rights Reserved.

All photos and/or videos seen on this page are copyrighted
by their respective authors, and are used herein with permission.
---